Update!! Within minutes of Tweeting the link to this blog, mystery pig sent $500 more!!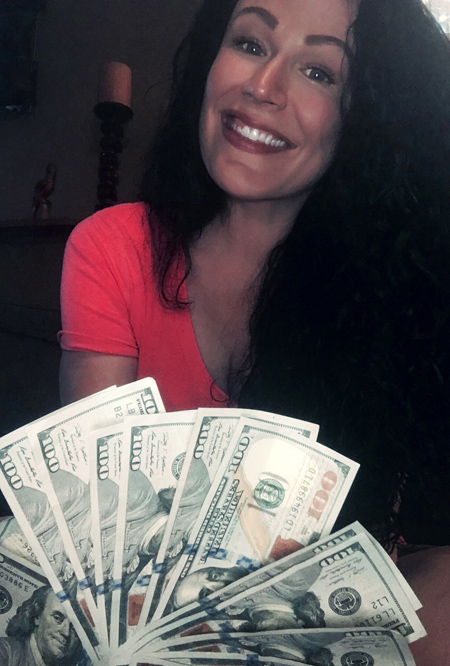 This cash was all davidansar's!  Now it's MINE!  he sends at least $100 a week.  Slow and steady but it adds up!  Doesn't it make the rest of you want to run to the bank tomorrow, empty out your checking and savings and send it to ME in a fat lump!? Imagine viewing a photo of ME flashing your cash and smiling happily!!
Let's see…most interesting thing that has happened lately has been witnessing speedydick's endless cycle of shame!  he sent $1,000 within 2 days! After sending the latest payment on Monday, he said he "needed a break."  But ya'll know how that goes!!  he will be back next pay day with a gay stiffy, whispering on the phone, spurting jizz and tears, whining about how hopelessly addicted he is to ME!  And I will LAUGH. AND LAUGH.  AND LAUGH!!
mystery pig missed his bi-weekly alert pay by like a week!!…(shame on him) but by the Power of MY Tweets he couldn't stay away for long.  he sent $500  and I expect he will be sending  another generous tribute in two weeks! My phone alerts have been reset.  I will summon you through Twitter, My mysterious little pay puppy.
sissy tommikins is such a good forever-slave.  he sent $500 as usual.  hairlip has been paying his daily tributes and reciting and texting ME his daily prayers first thing every morning.  he also paid $200 and sent Us $250 worth of Verizon gift cards to cover Our mobile phone services,  pantystain sent $200 and did a little shopping.  wimpdick has also joined in on sending small daily tributes after saying his morning slave affirmations.  This has really improved his attitude and mindset,  putting him on the DIVINE Path to forever slavery!  slavey davey has been doing some shopping for ME .  We are revving up for his next sissy fashion show!  I made him order a ridiculous unicorn sissy outfit for his next dorky video debut!
Oh zippy slave!  I know you are trying to recover…but umm..nah.  I forbid it.  Come back and give ME more of that money!
I didn't really keep track of all the random tributes and square payments from passing pervs. They are rather unmemorable; as are random pervs.
Say your daily affirmations.  Follow them on MY Twitter and study them on FemGod.com.  davidansar has been keeping track of them here for Me.
SEND your cash to your Divine Creator.
Note: I am also collecting gift certificates for Alaska and Delta Airlines because next year or so We anticipate traveling a lot to the North West.  Send AT LEAST $500 at a time.