mysterypig has been sending about $1,000 every second Saturday!  The scheduled Pay Day before this very last one, he sent $1,250!!  he has been averaging around $2,000 a month!!  I FUCKING LOVE IT!!! It's especially thrilling when I announce on Twitter that it's his Official Scheduled Pay Princess Day and he immediately sends it on that very day!    That makes snatching his cash even that much more satisfying!  his payments make Us totally GIDDY!
We have decided to start collecting a few sets of China.  First, We are doing a mix-match set but She also really likes Royal Albert's Bone China in the Lady Carlyle pattern.  you boys will be building Our collection piece by piece.   wimpdick even sent Us some pieces from his late gramma's collection.  I'm sure Nana is smiling down from heaven seeing his lovely Dominatrix sipping tea out of Her old china cups.  Here I am showing off one of the tea cups he sent.  Check out My Amazon wishlist to get Us more pieces!  There are also other pieces We want that aren't available on Amazon, I will add them to My wishlist here.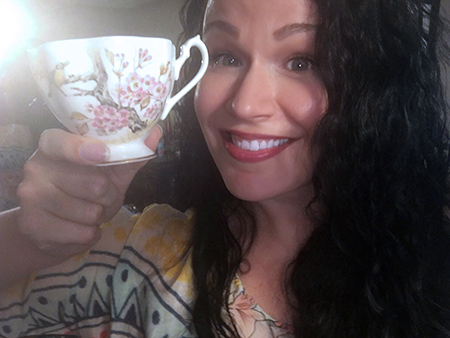 This month deerslayer came into some extra money and handed over an extra $4000.  he's My local slave as most of you know.  he sends somewhere between $500-$1,000 every single month..has for a very long time. I slapped that $4,000 straight into the bank to use towards Our future dream home.
Oh I have had some EPIC shopping sprees with rat bastard! Since My last update he has spent around $1100 cash, $130 Amazon gift card and bought Me a SHIT TON OF PREZZIES!  Here's a picture of some of the many gift cards he bought.  Box after box arrived — Perfume, Frye wallet, electronics, tons of beautiful wardrobe items, breadmaker, China and so much more! One night I made him go over his debit card limit by $900!! he had to pay a bunch of overdraft fees!  I can't lie…I LAUGHED MY FUCKING ASS OFF!!
Here's some of the donations I remember getting because I Tweeted about them.  This does not include the numerous guys who are on the smaller daily tribute schedule and anonymous Square tributes I get from randoms.  It's been a long time since My last update so this list is VERY incomplete. I don't Tweet all donations.
$200 from harry, $600 from tommikins (tommikins  does at least $500 every month..and has for like….FOREVER!), $600 from vintage furfreak,  $450 piggy pops, $250 Amazon gift card from somebody, $400 from the ukrainian, $300 from mrobot, $200 new guy,  $400 Amazon gift cards plus $150 cash from a new guy I am calling the convert.   $500 from amsterdam ham as well as this $200 framed art, $300 from baby schwein, $300 from father flatulence, $300 from cory, $150 from shrimp emoji, $500 plus a sweet love letter from kenneth, officer jizzypants sent $575. $500 from twinkie.  (twinkie also always does at least $500 a month.)
slavey davey buys Me items pretty much whenever I want and wimpdick shops regularly and is also a daily tribute payer.
davidansar has been sending $100-$200 every week.  his loyalty is very pleasing!
REPLACEMENTS.com
China pieces We want when you hit the link the item will be highlighted
Teapot  2broke2squirt
Sugar bowl and Lid  slavey davey
Creamer  slavey davey
Large Sandwich Tray
Gravy Bowl and Underplate
JOHNNY WAS
Tansy Duster get in charcoal size L