Just colored My hair again, pantystain!  Pretty huh!? Thought I'd snap a quick one before I went out tonight.  Another frigid night!  Coat by Princess fan.  I think the Uggs wool headband was by hairlip.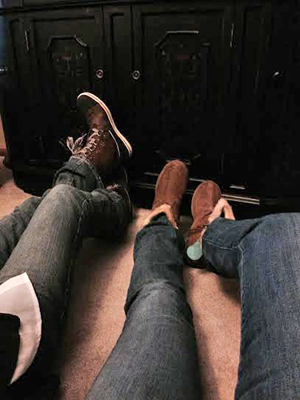 Iphone shot of Me and HRC's new boots by pigsnot! (I'm on the right and I still have the tag on the boot)  I absolutely LOVE HRC's pair and want the same ones!  Amazon doesn't have them in MY size.  They are SO adorable! I really want.  They run small and don't carry 10.5 in Womens so I'm going to go with a man's 9.  GET THEM NOW!
Downlight Jacket get size L Tall in Purple.