Update I got another $600 out of loopy on Sunday night!   Go ahead boys and shop MY Amazon, I managed to get a hold of the one chick at My local UPS who knows how to hold all shipments without tracking.  🙂
tommikins sent $1,000! What a good boy!  My minions bought up My Etsy jewelry faster than I could post it!  In case you missed My little update, sir wankalot mysteriously popped by and dropped $1,000 out of the blue.  sir wankalot, you obviously haven't changed.  Embrace your defeat!  Now go send another grand and how about  more gift cards to that cabin We stayed in November?  We had so much fun!
loopy4legs sent Me a text the day after his big binge telling Me thanks but please not to text him anymore because he was getting his life back in order. Well guess who texted last night innocently asking Me about how DropCams worked and later got talked into going out to score more coke and start sending Me all his money!? I squeezed $1500 out of his credit card!  I made him run around the house in his pantyhose high as a kite. he took full photos for Me. I will share this cropped version which had ME laughing My ass off.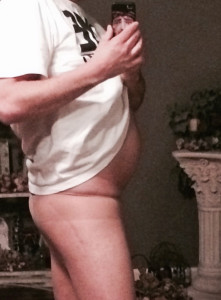 Look at Jesus watching him on his phone and crying! HAHAHAHHAHAHAHHAHAHHAHAHA!  Why do I find this so fucking amusing!  I can't stop laughing My superior ass off!  Seriously! HAHAHAHAHAHHAHAHHAHAHA!!
Ok we are leaving to go camping Monday!  See ya freaks on Thursday!  I'll have My phone for texting and maybe tweeting.
NEW WISHES
Macys
Macy's Concepts Cold Shoulder Top get L
Etsy
Hippie Earrings
Cross Necklace get 18
Eddie Bauer
Tee on Sale get Navy in Tall L
Notch-neck tee  get black in Tall L
Tee on Sale HRC size Small R heather grey
Soft Surroundings
Bedding get coverlet in Queen Pomegranate and 2 matching Shams
Cache
Cache Cold Shoulder Dress get XL