Update on YouTube:  See Me Diffuse My Royal Curls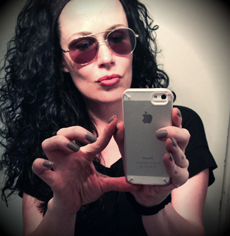 Hi man-turds!  Let's see.  We had a very nice weekend and spent most of it outdoors enjoying the nice weather.  We got a real workout volunteering at an old-folks home taking a little old lady on a nature walk.   We pushed Her 4 miles up a steep trail on this rickety old wheel chair, then fed Her wine and sandwiches in the park after.  Good times!
$200 from screwy stewy, $300 from amsterdam ham, some shopping from pantystain and slavey davey.  I also woke up to $175 from some brand new guy who claims to be 18 years old.  you little fucks need to do your part!  This was not the most lucrative weekend!  What the fuck!!?  Wasn't it Palm Sunday or something!?  All ya fuckers had your dicks in your palms looking at MY beautiful photos!!  Time to fucking TITHE your monthly paycheck, ya frickin' heathens!!   If you are sitting there reading this and haven't tributed lately, it's fucking HIGH TIME.  Bad things happen to those who disappoint or cross Me.  The universe doesn't appreciate those who do not sufficiently appreciate their GODDESS!  Show your appreciation before it's too late!!