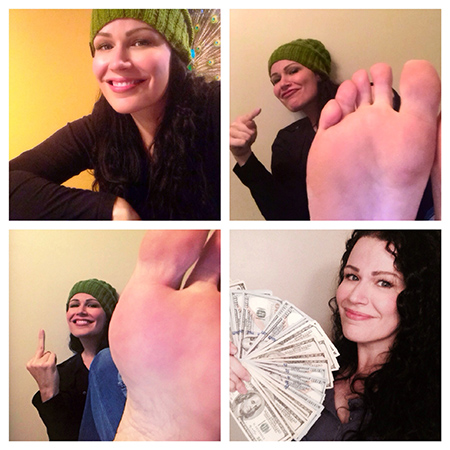 toejamjam coughed up $500 today for a 60 second peek of My tootsies on cam.  twinkie bought Me the greeny beanie and I love it!  slavey davey recently bought Me the same beanie in blue which is being custom made for Me.  I tossed in one last photo to the collage of Me posing with some of lezzys'toys cash!  Speaking of lezzys'toy, another $1,000 came in today!  Haven't gotten an email from him for a few days.  Guess he couldn't make it to the library! LOL!  Me and My sweety are saving up all this cash for something very special!
hairlip completely buckled when he saw a new photo of The Blonde Goddess of Hotness!  She graciously made a custom photo posing with a new Bose Mini SoundLink pigsnot surprised Her with!   One look at that pic and hairlip was frantically wallet-humping My Amazon wishlist! HAHAHA  he slapped a $300 Tory Burch leather tote bag for Her right into his shopping cart before the second photo had even loaded!  pantystain also bought Her a pair of Salomon trail running shoes which She loves!  slavey davey sent $100 plus did about $200 of shopping for Me and let's not forget the ridiculous wimpdick who has shopped MY amazon wishlist every day this week as he minced around in his leotard and drink piss out of the commode.  Here he is dining on oatmeal boiled in piss.
Gifts that came today.  Prana top from hairlip, Eddie Bauer goodies from slavey davey, The North Face jacket from twinkie and I can't remember who bought the Merrells but I love them!
$300 from mystery pig came through this afternoon!  Still not one peep from this guy!  hahahaha!   My buys have been making ME so happy!!  Keep up the good, work Mah Minions!  To the rest of you!
SEND CASH CASH and MORE CASH –  saving for Our Mountain Dream Home
Oh if you are a regular and want a membership to the old BitchyBeauty site send Me an email for the password.  I 'm not updating it, but I'll give passes to all those who are loyal and useful to Me.
WISHLIST
Verizon gift cards.  you can buy them at Verizon stores or online.  Pay Our shared plan!
Home Depot Gift e-cards or cash!  New washer and dryer **
ETSY
Handmade Dish Set $520 **
Custom set of plates  These will be MY fancy guest dishes.  Send ME  an Etsy Gift Card for them.  If I Love them, I will add bowls to the set!
EDDIE BAUER
Packable Shirt  Tall L in Dusty Coral
Twill Pants Tall 12 in Sprig
Tank in Jade Tall L
Stayshape Pants for HRC Petite 2 in Driftwood
ZAPPOS
Send a E GiftCard so I can buy these Hudson Jeans