Update: mrobot sent another $400–for a total of $800 the last 2 days. 🙂
ladystoy!  I've been trying to get a hold of you via email!  No reply.  you really need to consider getting text on your phone so I can send you orders in an instant and you can communicate with ME more regularly.   I think another $ penalty is in order for not getting to the library enough this week to read and reply to MY emails!
Look what came!  Another $1,000 cash from ladystoy and $400 SouthWest giftcards from pigsnot!  ladys toy has been sending his envelopes of cash!  It's so fun going to the mailbox and finding so many little cash envelopes in there and opening them up!  Most are all new $100 bills!  Nothing like a clean new crispy!!  I LOVE LOVE LOVE getting cash in the mail!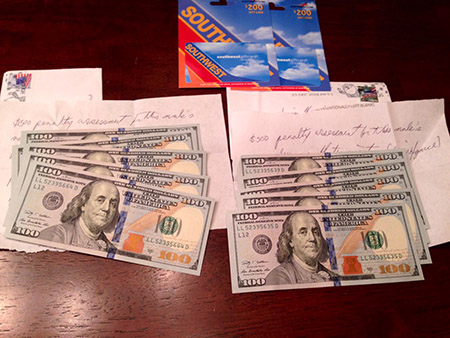 $400 from mrobot! he's been put on a strict Oatmeal-Only diet until he can cough up another $400 cash.  I should have made him mix it with his piss instead of water, but I guess I was in a good mood. LOL!
The mystery pig from Oregon sent another $300 yesterday!  Continue to please Me from the shadows, little minion!  🙂
$200 Hudson jeans from a secret admirer,  slavey davey did about $200 worth of shopping and still has another $200 left for Me to use! Let's see, he picked up some goodies from Etsy plus even more Eddie Bauer items!   pigsnot sent numerous Amazon gift cards this weekend for items for ME and My sisters.  I need to tally it up but maybe around $450 worth? I will check in with pigsnot for the total. 🙂  he sends so many it sometimes becomes a blur!  pigsnot also sent $150 worth of Sephora cards for Us.