mrobot had a little glitch for a few months and was not answering Me when I sent command files to him!  BAD ROBOT!  I am now re-tweaking him and wiping his old files and updating his systems!  mrobot is PROGRAMMED to pay!  mrobot is PROGRAMMED to obey!  I know you are reading this mrobot. hahaha!  I got $400 from him and he is now busily writing 500 sentences to help clear his brain of the thoughts of the man he once was.  john is dead and has been replaced with mrobot!  john has been completely PURGED from your system!
gayson the quickest wank in the West just called and dropped $500 at My feet.  he blew his load as soon as I ran his card for the amount.   What a fucking LOSER! muahahahaha!
BOOTS!! Motorcycle helmets and tough chick shoes!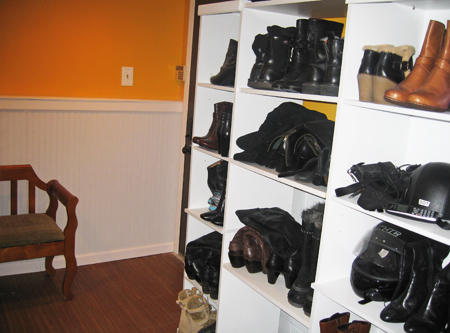 See that back wall used to be unfinished.  The bead-board spruced it up.  The paint is actually crazy bright yellow.for some reason it looked orangey in the photo.  Still have to put one more coat of paint on the bead-board though.  This is My laundry-room/mud room/boot closet.  Keep in mind this is just My FAVORITE boots. I have scads of shelves and closets of lesser worn boots.  you can also see some of MY motorcycle helmets and MC walky-talky stuff in the photo. There's 2 more shelves of boots on this wall that wouldnt fit in the photo. HAHA! There is a closet in this room chock full of leather jackets, chaps, coats and boots boot boots!  All purchased by YOU fucking freaks! Tall boots, short boots, brown boots, black boots, biker boots, dress boots, hiking boots.  I heart boots!  you are so lucky to serve such a Bad Ass Bitch! Do you see a pair of boots you bought Me in the photo?  Pinch yourself, loser!
Oh I am going to need 2 small framed prints/art for this wall.   Something super bright.  Will be posting them as soon as I spend sometime perusing art websites.
Oh and don't forget!  I still want this piece for My living room!   Get it! For some reason it calls to Me!! Or you can Paypal Me $330 so I can ship it straight to My home.  Contact ME for the size, frame and matting I want.  I need it pretty large sized.