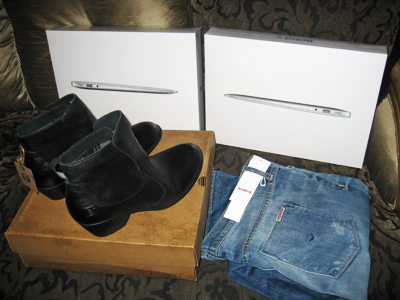 2 brand new MacBook Air from pigsnot!
Awsome smelling leather Born boots and a pair of Hudson jeans from slavey davey.  A pair of Athleta work out pants came too, but I had put them in the washer so they missed the photo op.
fulfilled work-out items
Capri  Tall L, Black fatmac
Shorts for HRC  get S fatmac
Chaturanga pants  L in Tall in Black fatmac
Bermuda Short size L in Black slavey davey
Shorts for HRC size XS fatmac
Bra Top size L Tall in black heather slavey davey
Velocity Top purple slavey davey
KickBooty pants slavey davey
I mailed MY shoes today, tommikins and pantystain!  Keep a look-out!